Secure them even you're not around
As much as possible we don't want our baby roaming around the house without supervision or some one to look for them. Babies tend to go out the crib or bed when they get the chance and we won't be able to notice it.
Using this "Safety Bed Grail" we won't feel any fear and doubt for our precious baby's safety. It will serve as a gate to control our baby from going in and out unattended.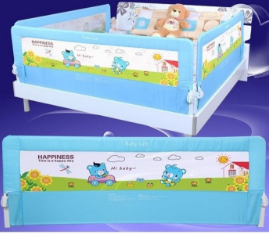 FEATURES:
Easy to Install  - Plug and Go feature. Just have it pin and it will effectively secure your baby while sleeping our unattended.
Baby-friendly Materials - Made with Oxford + Fabric + Nylon + Iron + Power + Spraying + PP that is odorless and chemical free.
Prevents Unwanted Fall - It will secure our baby from sudden falls while sleeping. It will serve as a grills to hold our baby inside the bed or crib.